Lockdown Heroes Presentations - the St John Inn, St John, the Bullers Arms, Landrake and a social at the Cockleshell and the Two Bridges, Saltash
Sunday 5 June 2022
On Saturday 9 October 2021 a group of CAMRA Kernow members travelled by coach, arranged by Roger Webster, our Social Secretary East, to the St John Inn. The pub is located in the picturesque village of the same name on an inlet of the River Tamar in the Forgotten Corner of Cornwall.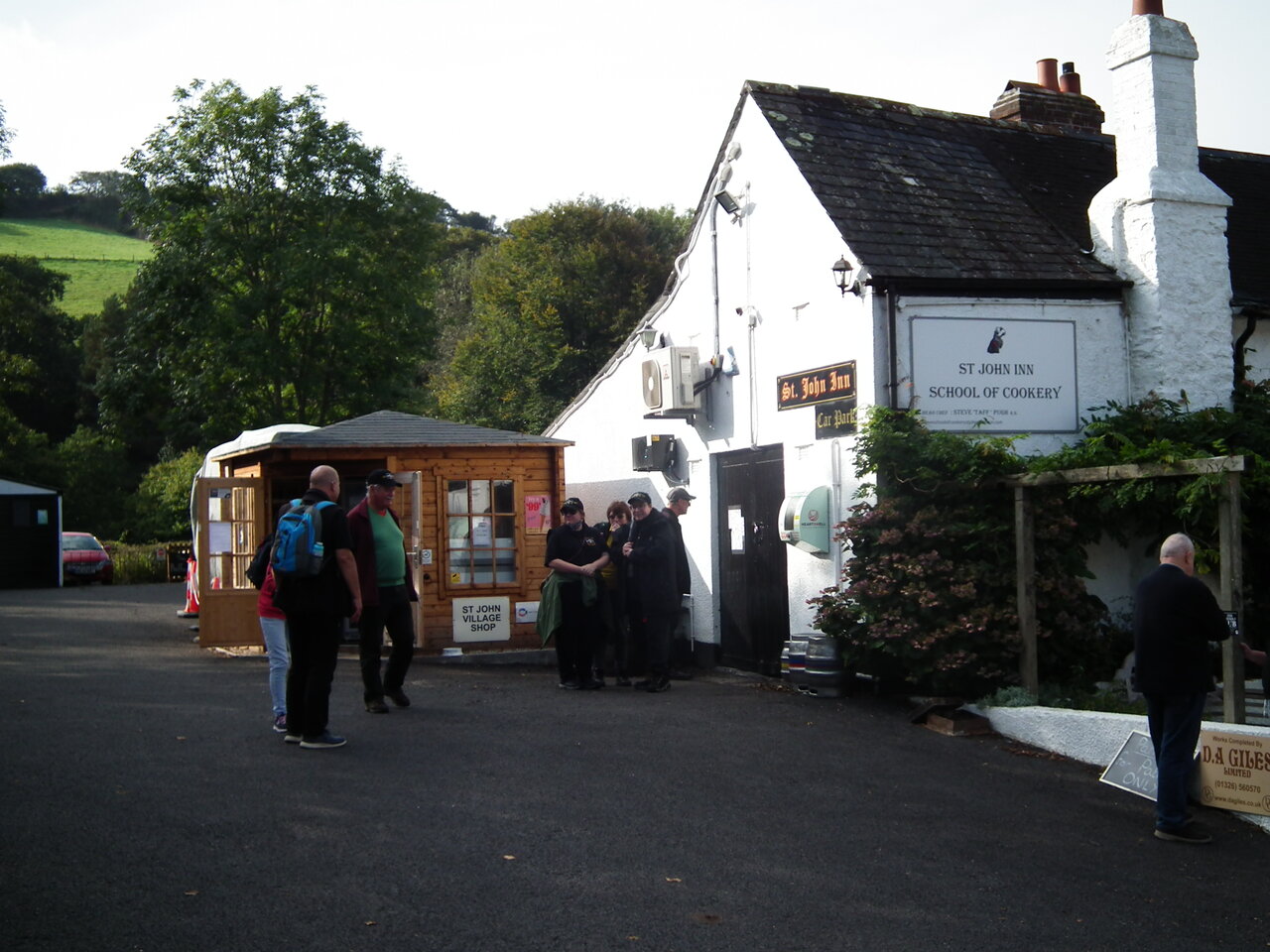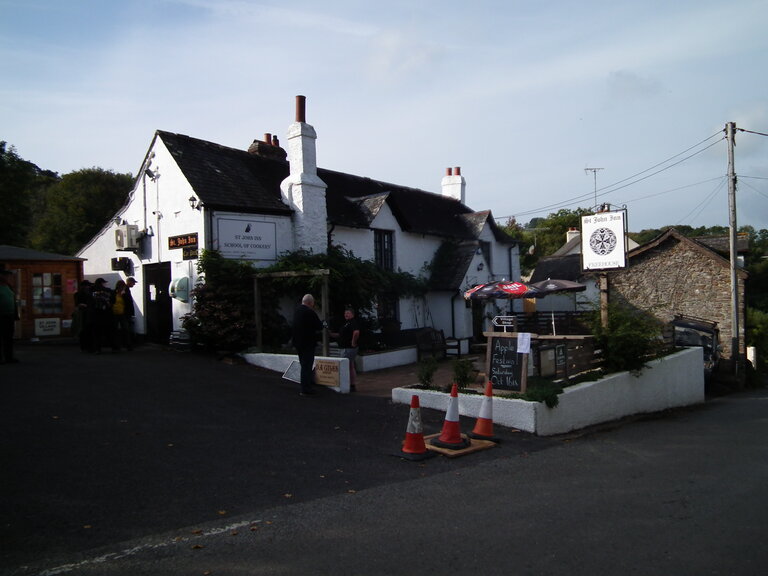 Our purpose was to present a 'Lockdown Heroes' certificate to licensees Rob and Gill Berry for the accelerated development of a new build village shop in the pub car park. The shop takes form of an attractive wooden summerhouse. St John is fairly isolated with no other facilities. In Lockdown 3 they offered printing facilities for all to use, including a colour laser printer, a laptop (for designing), and a laminator.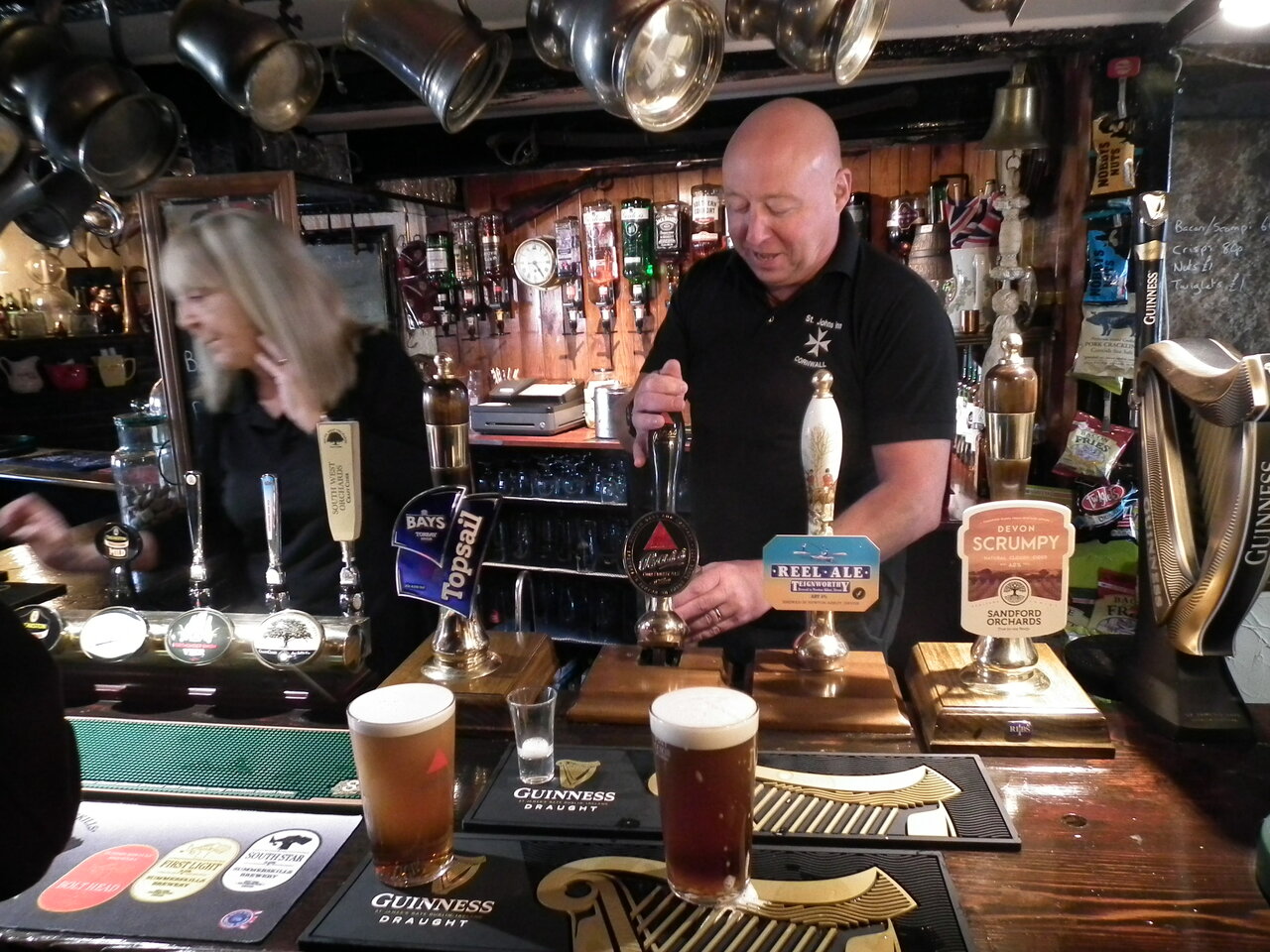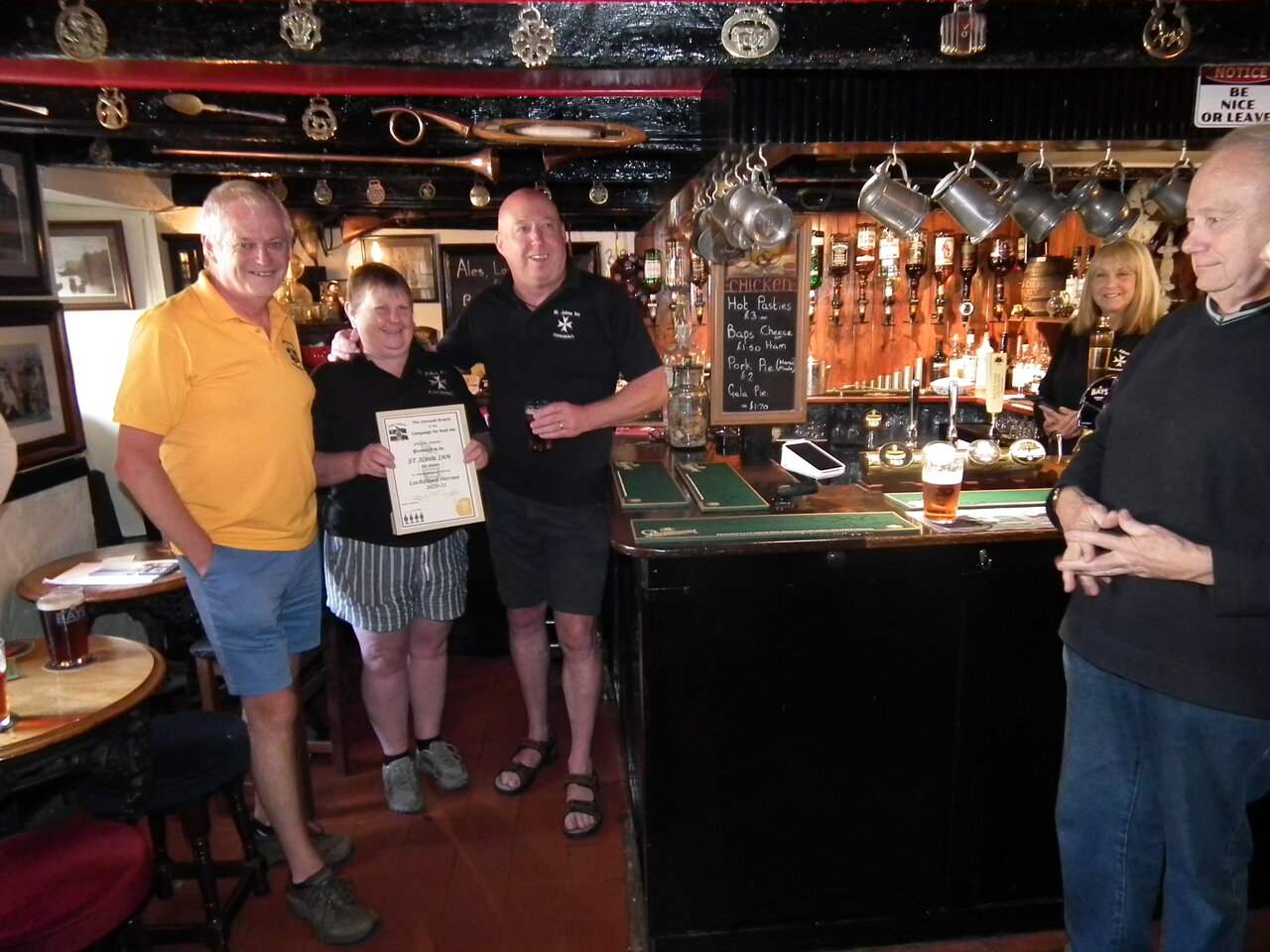 On the bar, we had the choice of Bays Topsail, Marston's Draught Bass, Dartmoor Legend, Teignworthy Reel Ale plus Sandford Orchards Devon Scrumpy cider, all on handpump. But there are only four pumps you may say. If I remember rightly, we drank all the Legend (very nice it was) and Reel Ale came on. After a few pints and excellent buffet, we had to drag ourselves away to board the coach to Landrake.
The CAMRA Kernow coach party navigated its way out of the Forgotten Corner to the ancient village of Landrake, now fortunately bypassed by the busy A38. Our destination was the Bullers Arms which lies in the shadow of the towering St Michael's Church and was a former coaching inn on the main road.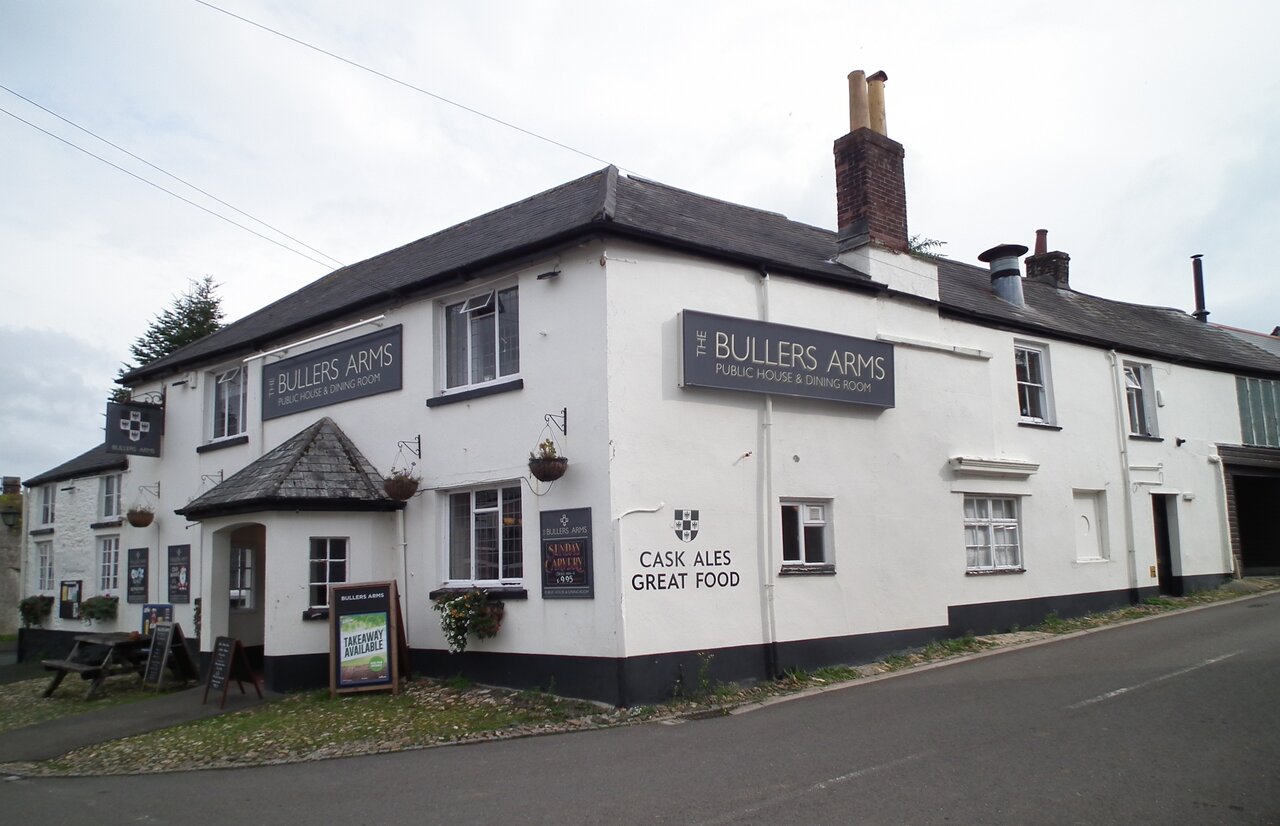 Our purpose was to present a 'Lockdown Heroes' certificate for making home deliveries of meals in the local Saltash/Landrake area to isolating people during lockdown.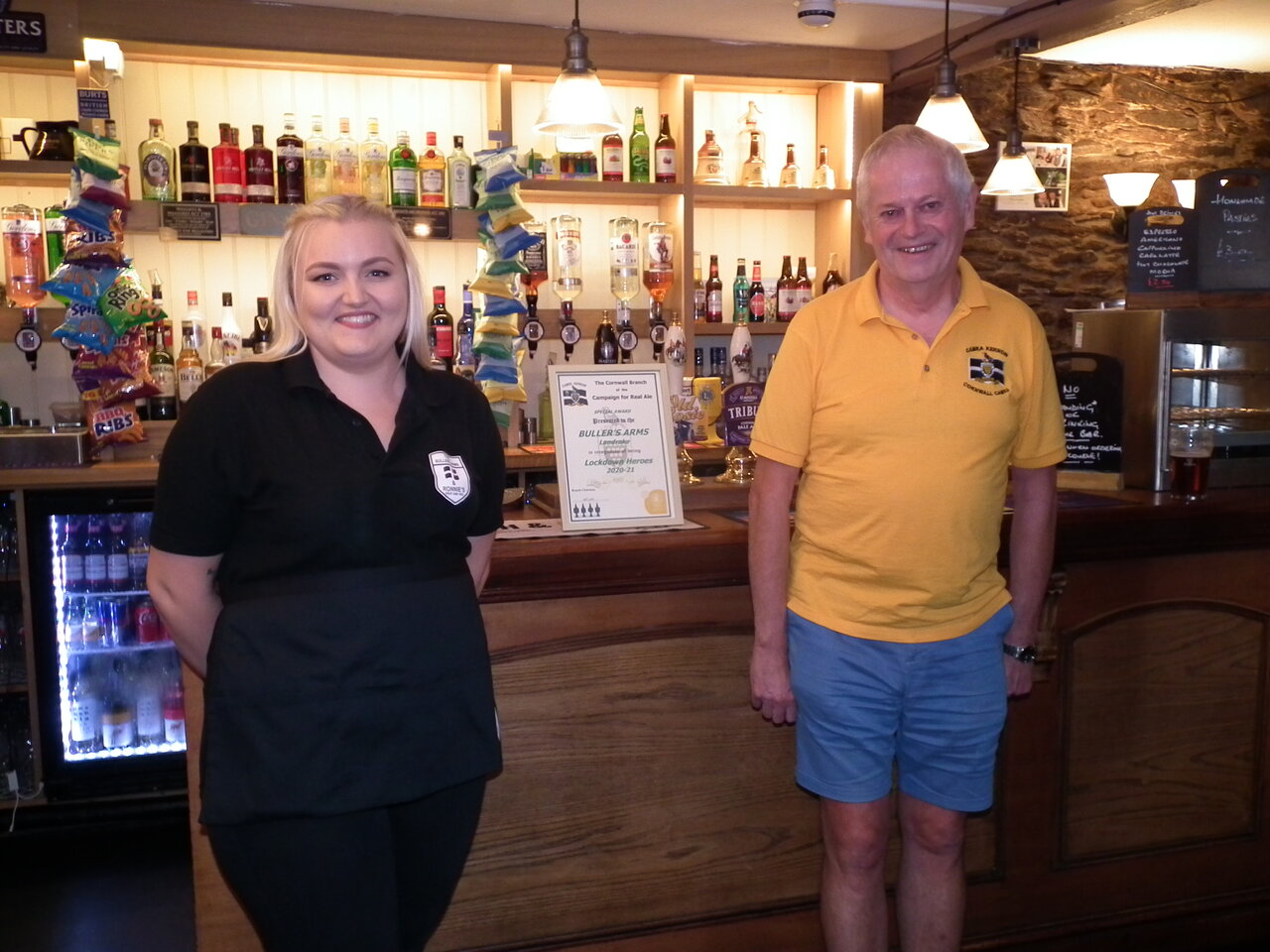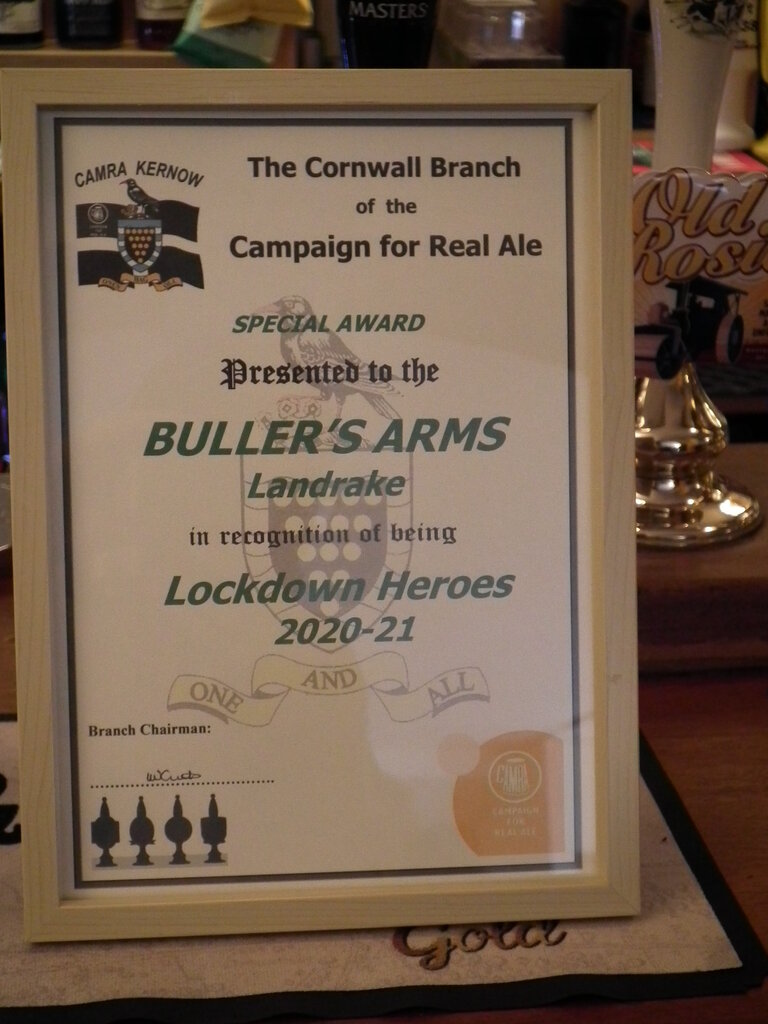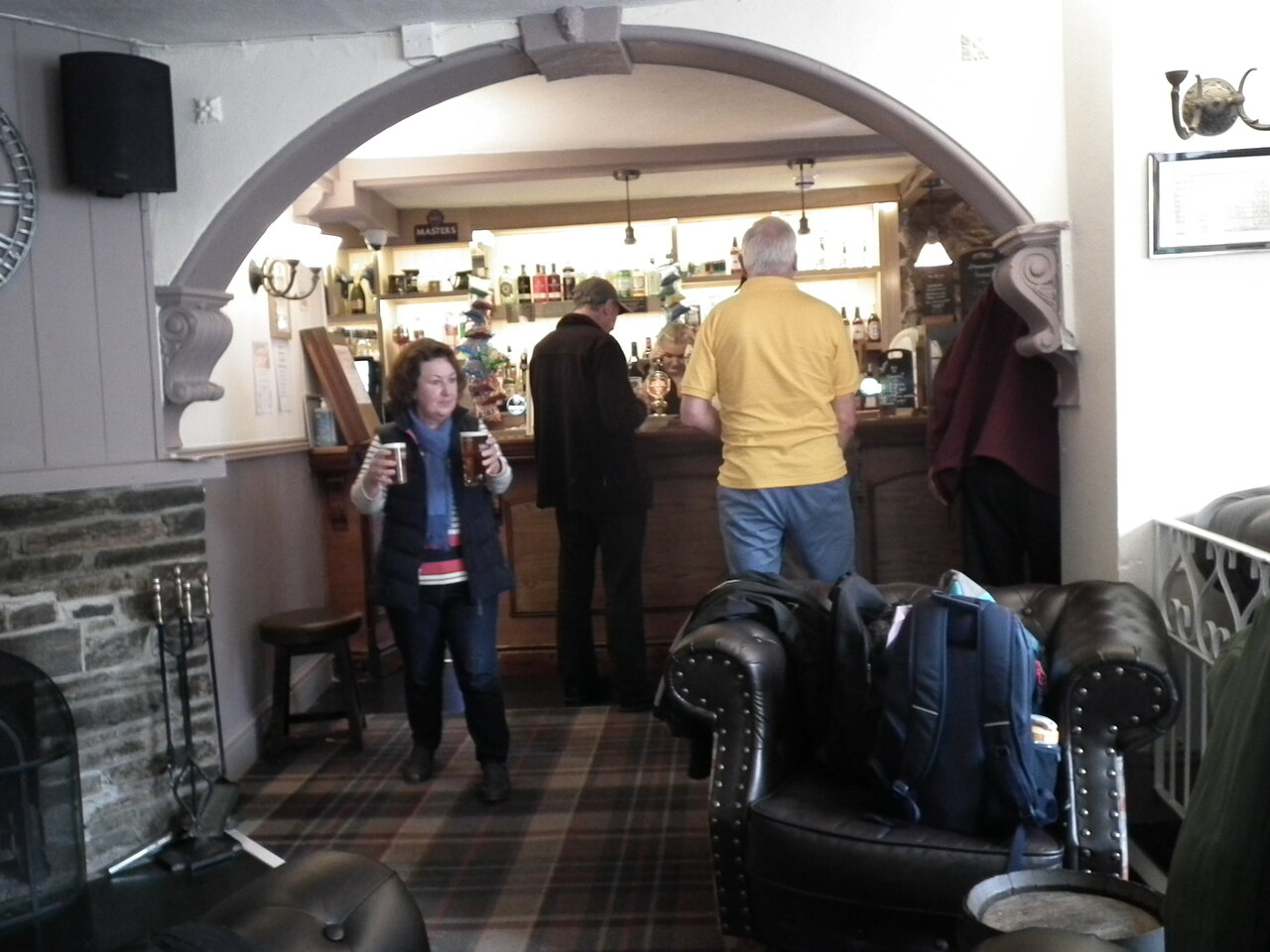 On the bar, we had the choice of St Austell Tribute and Dartmoor Jail Ale plus Westons Old Rosie cider on handpump. We enjoyed our beers while wandering around the surprisingly extensive space in the pub.
Having delivered two 'Lockdown Hero" certificates, the CAMRA Kernow coach party finished the day in Saltash for a social at the Cockleshell and the Two Bridges.
The Cockleshell is a micro pub in the middle of the town centre which opened in a former shop in 2020 and stocks a changing range of cask beers from Cornish and Devonian breweries. The Summerskills Porter went down very well! It is a convivial pub without entertainment distractions and conversation is king.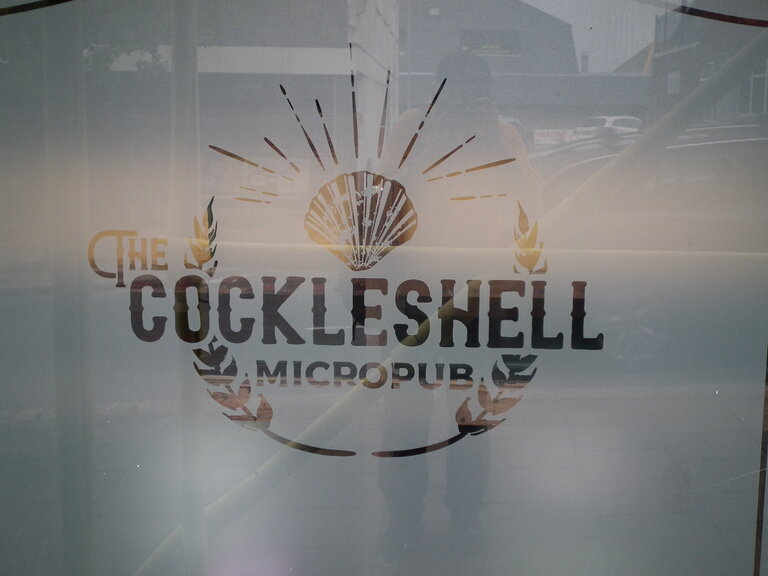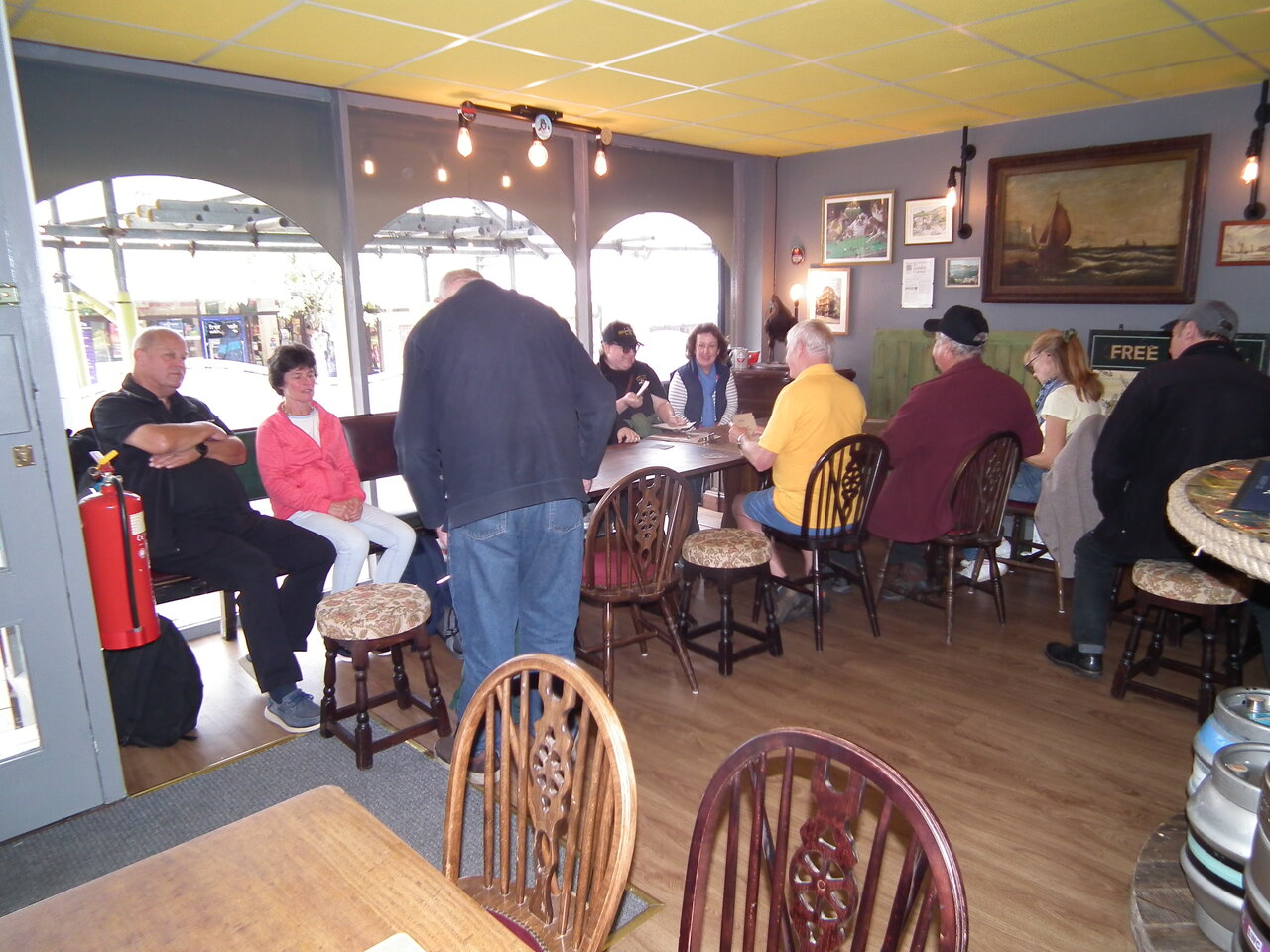 The Two Bridges is an old pub right next to the railway station on a road running down the steep hill to the quayside. As the name suggests, there are excellent views of Brunel's 1859 Royal Albert railway bridge and the 1961 road bridge joining Cornwall to England. Our beer from the busy ground floor bar was carried up staircases to the pleasant garden behind and above the pub. I managed to avoid spilling much of my St Austell Tribute! Watching the trains crossing the bridge reminded us to make our way to the station and home after a long and enjoyable campaigning day.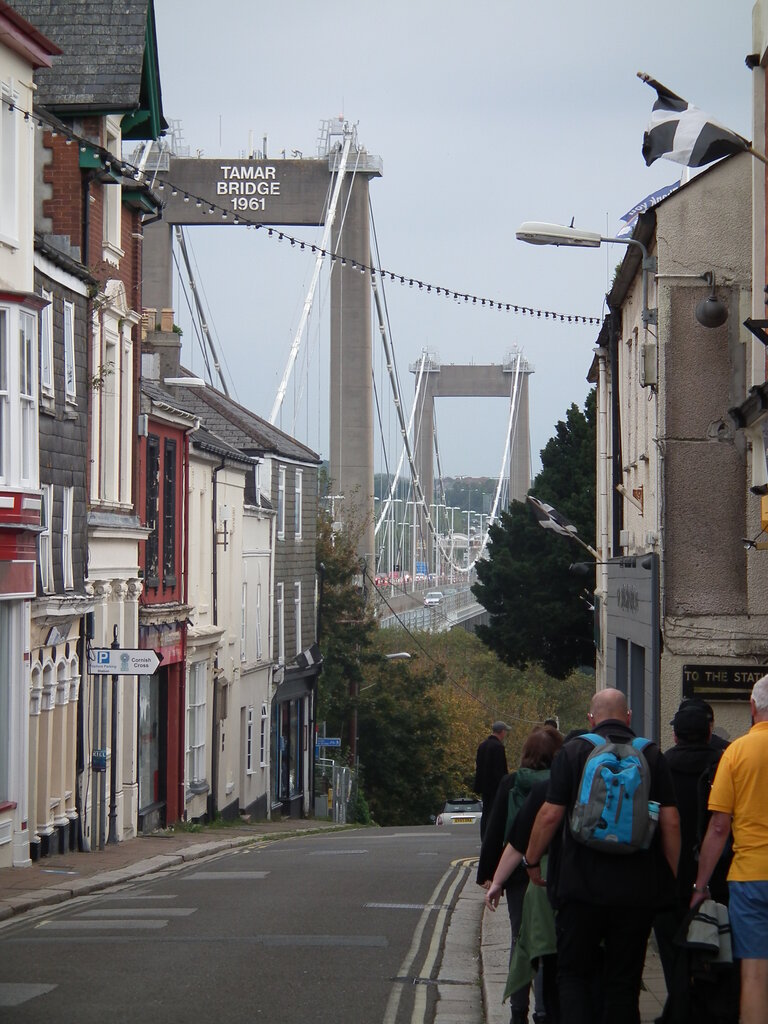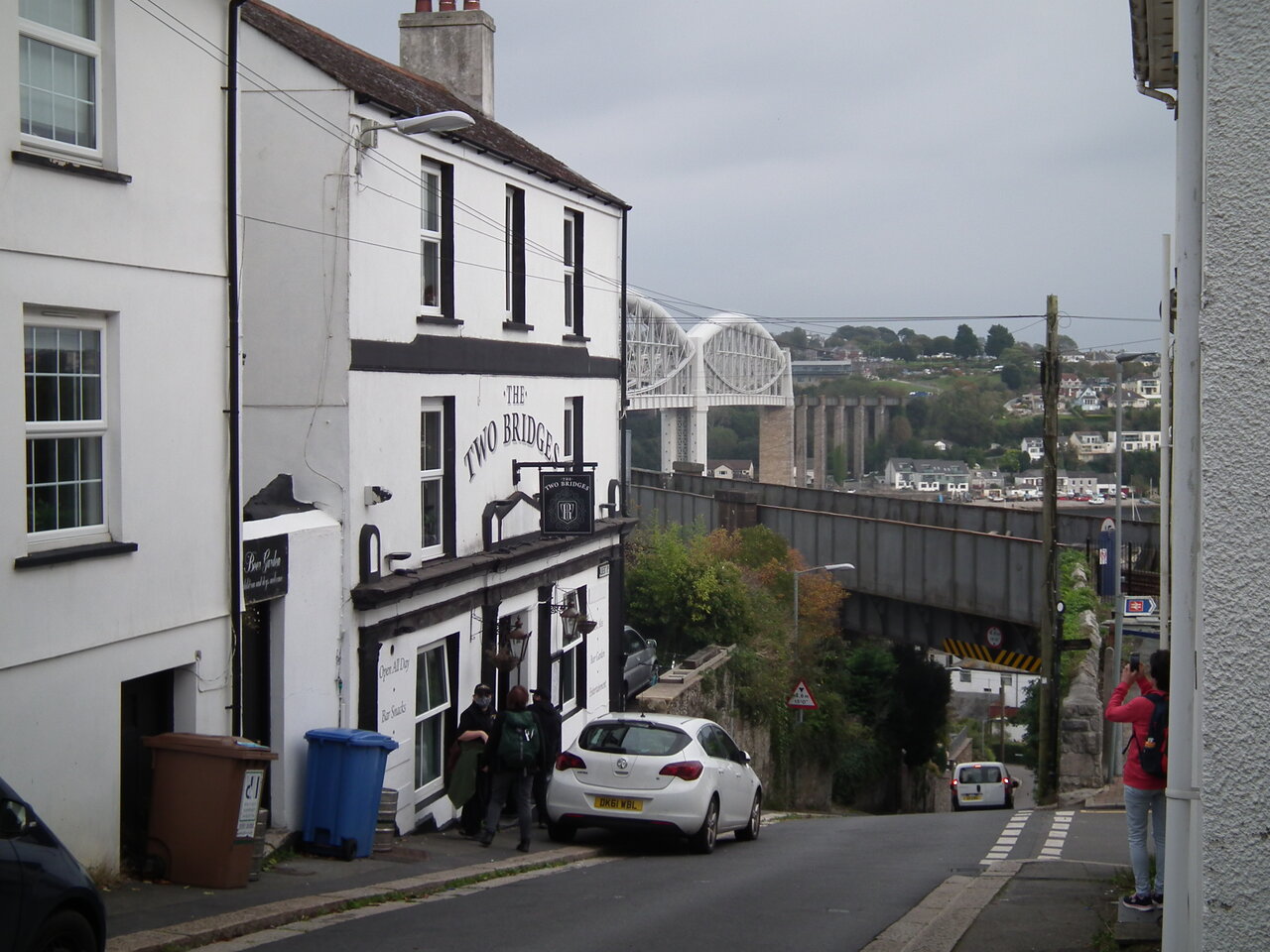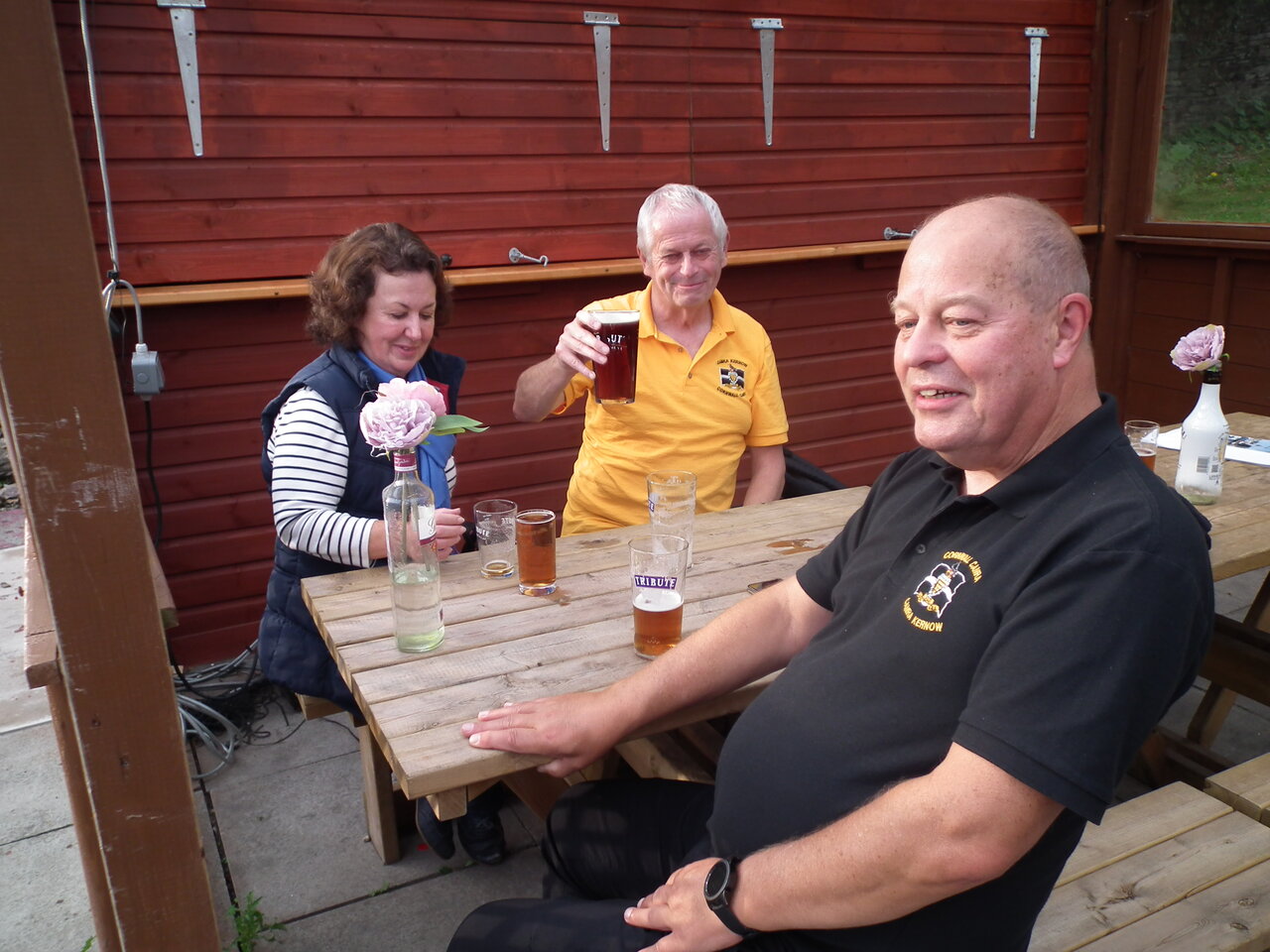 Cheers, Steve Barber